~~~~~~~~~~~Senior Portraits~~~~~~~~~~~~~~~~~
The 1st – 4 high school Seniors to book a senior Portrait  will receive
$25 off!!! ++++++ free wallets ++++ 1 8×10, 4 5×7′s, 8 wallets

Get a friend to booked I will give you $10 off
Refer YOUR Friend Program: I will email you a digital copy you can email your friend or tag them on Facebook – receive $1 off each friend you tag up to $20 OFF YOUR session!!!
STUDIO + ON LOCATION AVAILABLE – $100 retainer non-refundable to hold your date
SENIOR Portrait Creative Sessions Prices – 25 high resolution digital images with copyright release
$349 -  60 minute indoor studio session-
$375- 1.5 hour outdoor phoenix session
$399    1.5 hour outdoor Scottsdale session
$425    2.5 hour dual Location (Fashion studio + outdoor) session
- Fully edited digital photos in color and black & white,
- Online proofing gallery of the client's choice
- Blog sneak peek
- 20-30 hours of fully custom artistically retouched photos,
- You receive around 40-50 to choose from your session, ordering prints, online private proofing gallery for family to view. Share or print with friends & family. No minimum purchase order to order photos.
• A detailed per-consultation with Leslie to plan a display goal for your session.
• Guidance and advice for clothing and session design.
Senior Collection starts at $850 +. Most families invest approximately $2,000+ on their Senior Custom Product Order. Products include ready to hang art, gallery wrapped canvases, storyboards, custom press printed albums, graduation announcement cards, edited digital files and more.
I decided this year to start specializing in senior portraits. There are many reasons I have always loved working with teenagers. When I was in high school I worked with youth groups at volunteering a counselor and when I graduated in my 20′s. I volunteered for with teenagers and middle school aged children. I kids of all ages to in general. The reason then that I volunteered was because I wanted to be there for the kids to give them extra love and support. Being a teenager is really really tough, high school can be a hard time and kids can be mean and hard. No one should be treated that way in general let alone when you are a kid. My goal was to be a good friend to them and show them love they truly deserved.
Another reason I want to move into doing senior portraits is because I love working with adults and being able to pose them vs children who don't really allow me to do that. When I did the beauty pictures I found out that I had such a fun time and realized I fell in love. When I started this business my ultimate goal was to move into wedding photography. I never really went into it because of a couple reasons. 1 I was wanting to have my natural light down solid and during those first 2 years newborns came snowballing into my lap like an avalanche and I couldn't fight it so I went with it. 2 I have small children I didn't want to spend 8 hours away from each Saturday and Sunday.
This Sunday a good friend from my old Mops group  at Chandler Christian Church hired me to photograph her son's senior portraits. I am super excited he is a football player. I have been doing tons of research the last 2 weeks super excited to take his photos. This summer I will be taking my niece's senior portraits and my Aunt Lynn's twin boy and girl senior photos who was married to my Uncle when I growing got divorced (but she will always be my Aunt to me in my heart) back in Pittsburgh when we come home to see our family for a week.
If you are interested in booking your teen's photos as well email me at leslie@lesliestyler.com
Makeup Artist + Hair stylist in search of- If you know someone you can recommend please email me. Thanks
What are your business hours to call ?
Office hours to call – email anytime to contact me
Tues-Friday -10am-5:30pm
Monday Closed
Sat-Sunday – Photo sessions
you can call me by phone 480-254-4595
or email leslie@lesliestyler.com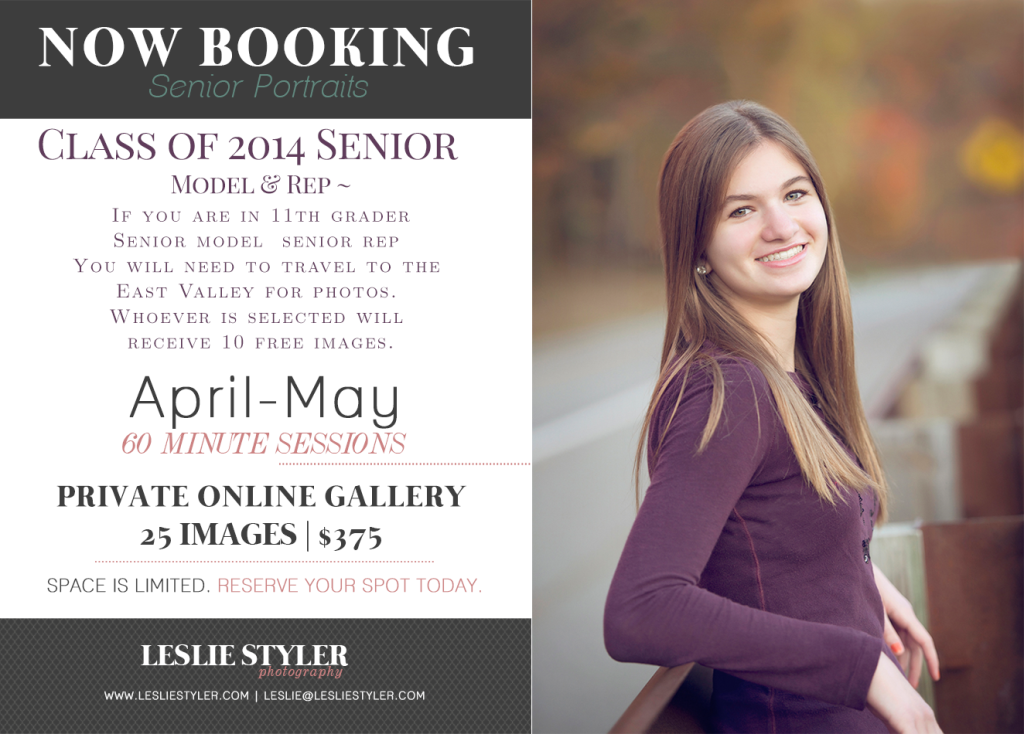 Photography Assistant- no photography experience needed- ( Mom's who have children of your own or recent babysitting/newborn experience has a hiring chance) 
1-2 positions available- preferable a female

Newborn assistant -
pay $10 an hour

+ I will be teach free newborn posing to my assistant during work quietly.

* Must have experience with newborns & children + have children of your own.

* Close attention to detail, must have lots of love for newborns, patience to wait for baby to fall asleep.

* You will need to show up early before clients each session.

*  The job is 1 day a week on Saturday's from 10am-2pm latest 3pm.

* There is some heavy lifting from time to time as well. If you are still interested let me know~

* The job only includes helping there is no picture taking in this position only staying next to the newborn the entire time to keep baby safe.

Photography experience is not a must but if you are interested email me. Mothers without any photography experience looking for extra money welcome as well.

Hours are 10am -4pm (depending on the light. Each week the times changes I can tell you each time, newborn sessions go 2-3 hours)

Days needed Saturday and Sunday ( newborns are mostly only Saturday positions – that's why I was asking for 2 people, I might need every once in a while a Sunday.)


If you are interested in the job I can talk to you more about what the job details are plus interviews will be held. Please send :

1.resume to my email below and

2.name and phone number.

3. Newborn experience

References will help

Feel free to contact Leslie and we can discuss the details. Leslie@lesliestyler.com.

Here is a little sneak peek for an past client of mine. Her beautiful little girl is now almost 18 months but not quite.